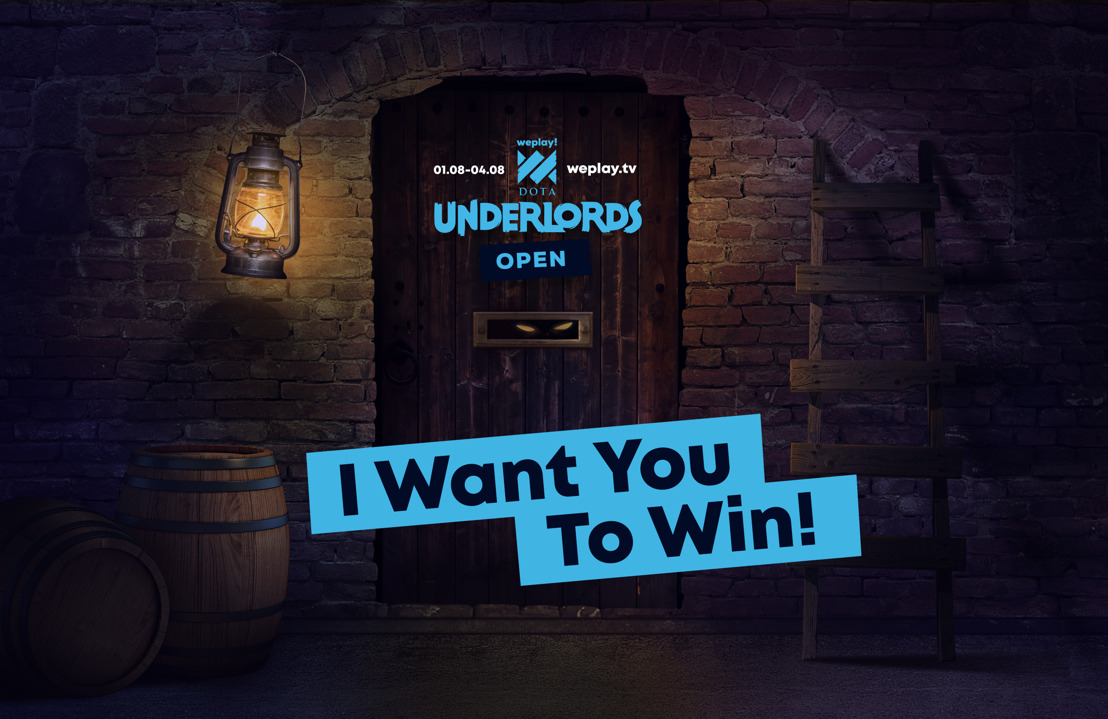 WePlay! Dota Underlords Open: tune in to the main event's broadcast on August 1st
The sixteen playoffs participants who passed the Open Qualifiers will compete for a $15,000 prize pool
WePlay! Dota Underlords Open, an upcoming $15,000 online tournament by WePlay! Esports, will take place from August 1st to August 4th, 2019. This event is WePlay!'s first tournament announced for Valve's autobattler. The Open Qualifiers round for all comers started on the 24th, with only the best 16 players to make it to the finals.
Format and details
This tournament is the first one featuring Open Qualifiers on the one hand and a worthy prize pool on the other. With the Open Qualifiers, organizers have set to provide players who love Dota Underlords with a new gaming experience — and more importantly, a competitive experience.
Participants of the final stage will compete in a Round Robin format; they will be split into 2 divisions, called Vicious Order (Europe time zone) and Crimson Gang (Americas time zone). Each division has eight participants, playing ten games on August 1st-2nd (5 games per day).
After each game played, participants will get points depending on the place taken by a player. The winner gets ten points, the second place receives seven, the third place will have six and so on. The eighth place position will receive one point.
After ten games, the top four players from each group, with the largest number of points, advance to the next round. These eight participants will also have to play ten games on August 3rd-4th, to reveal the four best players of the tournament. They will duke it out for the total prize pool of $15,000, which is to be distributed among four best players:
1st place: $8,000

2nd place $4,000

3rd place $2,000

4th place $1,000
Main event's schedule
Open Qualifiers were held in North America and Europe time zone during July 24th-29th. Lots of Dota Underlords fans took their chances: 5082 unique participants have registered for the tournament, with only sixteen slots available in the finals. The schedule for the main event this week is as follows:
August 1st, 2019:
Europe Group broadcast starts at 15:00 CEST / 6:00 PST

North America Group broadcast starts at 20:00 CEST / 11:00 PST
August 2nd, 2019:
Europe Group broadcast starts at 15:00 CEST / 6:00 PST

North America Group broadcast starts at 20:00 CEST / 11:00 PST
August 3rd, 2019:
Final Group broadcast starts at 20:00 CEST / 11:00 PST
August 4th, 2019:
Final Group broadcast starts at 20:00 CEST / 11:00 PST
Broadcast, concept, and talents
Dota Underlords Open will be broadcast live on WePlay!'s official Twitch channel in its finest esportaiment concept — the mix of esports and entertainment. Spicing things up, not only does it entertain devoted fans, but is also amusing and makes the broadcast unforgettable for the new audience. WePlay! studio content is always connected to the tournament's theme, e.g., for the Valentine's Day-themed Dota 2 tournament talents were presented as Cupids, while the Forge os Masters WePlay! League was all about a scout camp, where CS:GO players' skill was tempered.
Previously, the company organized events for esports such as Artifact, Dota 2 and CS:GO. This time, the WePlay! brought together a wealth of talent with Robert "RobAJG" Gonzales holding down the studio as host, and four great casters — Shannon "SUNSfan" Scotten, Sean "swim" Huguenard, David "ImpetuousPanda" Nolskog, and Joel Larsson.
WePlay! made some hints on the concept of the upcoming tournament in their teaser video and visuals, while one of the talents, Joel Larsson, is giving the audience a tip on what they might see:
"I think the concept of WePlay! Dota Underlords Open really captures the flavor of the game as the syndicates' theme defines a world where things are run by gangs and the underworld, much like in Dota Underlords, battling between each other with their forces in an underground arena".
Either for esportainment or for getting the hang of Dota Underlords, the tournament must be a sight to see. Fans from around the world can catch all the action live from WePlay! Twitch starting from August 1st.
More details of WePlay! Dota Underlords Open tournament are available at WePlay! website and ESTNN coverage.
---
#WePlay #WePlayDotaUnderlords
Source: WePlay! Esports Press Office
---
Media contact information:
Press inquiries: press@weplay.tv
Press Room: press.weplay.tv
---
More about WePlay! Esports
WePlay! Esports is an esportainment company that combines the best practices of the esports and entertainment fields.
Since 2012, the WePlay! Esports brand has been well-known for high quality organizing and broadcasting withs in the onlineesports tournaments and LAN finals. This includes tier 1, tier 2, and tier 3 professional teams from the in-house studio to their ownTwitch channel. In addition, to the creation and distribution of the esports content to their own media WePlay! Esports, the area of WePlay! Esports expertise lies in competitive gaming services, brands' integration into esports, and media rights sales.
By harnessing what the public is most passionate about – esports and entertainment – the company embraces the opportunitiesand challenges in esports that empower businesses. They thereby evolve with this valuable global audience in our modern media environment.
The WePlay! Esports mission is to develop the esports industry as a mix of esports and entertainment.
Our partners are:
Teams: OG, Natus Vincere, Alliance, Ninjas in Pajamas, Newbee, Team Vitality, FURIA Esports, AVANGAR, HellRaisers, OpTic Gaming, etc.

Talents: Darick CHARM3R Oswalt, Shannon SUNSfan Scotten, David Impetuous Panda Nolskog, Jacob SirActionSlacks Kannen, Owen ODPixel Davies, Jorien Sheever van der Heijden, Nick BreakyCPK Caras, Kevin Purge Godec, Alexey yXo Maletskiy, Yuriy Strike Tereshenko, Aleksander Enkanis Polishuk, Yaroslav Tekcac Petrushin, Anton 4liver Pavlov, etc.
Media | LinkedIn | Facebook | Instagram | Twitch | Twitter | YouTube